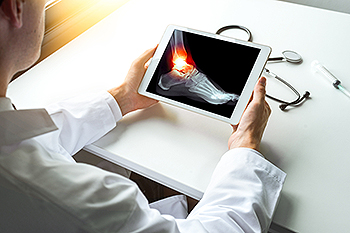 Normal activity can resume after an ankle fracture, despite it taking considerable time. A broken ankle can happen from falling, or if something heavy drops on the leg. Immediate symptoms can include bruising, swelling, and it is difficult, if not impossible to walk. Prompt medical attention is often sought, and having an X-ray performed can provide an accurate diagnosis. Once confirmed, a protective boot or cast is worn that can provide stability and mobility while the healing process occurs. Many people who run may be concerned about resuming their running or jogging routine after fracturing their ankle. There are specific stretches that can be done which may help to increase ankle strength and range of motion. When these are frequently performed, the average time for people to start running again may be between three and four months. This can depend on whether surgery was performed, how severe the fracture is, and the amount of effort that is put into doing all that is possible to have a healed ankle. If you have fractured your ankle, it is suggested that you confer with a podiatrist who can help you to heal successfully.
Broken ankles need immediate treatment. If you are seeking treatment, contact Manisha Mehta, DPM from Detroit, MI. Our doctor can provide the care you need to keep you pain-free and on your feet. 
Broken Ankles
A broken ankle is experienced when a person fractures their tibia or fibula in the lower leg and ankle area. Both of these bones are attached at the bottom of the leg and combine to form what we know to be our ankle.
When a physician is referring to a break of the ankle, he or she is usually referring to a break in the area where the tibia and fibula are joined to create our ankle joint. Ankles are more prone to fractures because the ankle is an area that suffers a lot of pressure and stress. There are some obvious signs when a person experiences a fractured ankle, and the following symptoms may be present.
Symptoms of a Fractured Ankle
Excessive pain when the area is touched or when any pressure is placed on the ankle
 Swelling around the area
 Bruising of the area
Area appears to be deformed
If you suspect an ankle fracture, it is recommended to seek treatment as soon as possible. The sooner you have your podiatrist diagnose the fracture, the quicker you'll be on the way towards recovery.
If you have any questions, please feel free to contact our office located in Detroit, MI . We offer the newest diagnostic and treatment technologies for all your foot care needs.
Read more about All About Broken Ankles